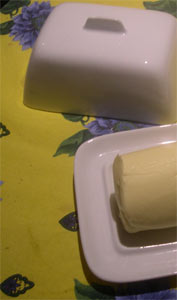 "Have you got to Sainsbury's yet?"
"No."
I was curious. Why was Danny ringing me? I had run out of tea bags and was combining a trip to Sainsbury's with a trip to Ridgeons to pick up some more paint. Tea is fuel. Without it all work would quickly grind to a halt.
"There has been a small domestic disaster."
I imagined the worst possible scenario. The fridge freezer had finally died. A Min Pin had discovered how to lift the lid of the bread bin. A visit from a Davisdstow cheddar enthusiast.
I said nothing. Danny filled the gap.
"I opened the fridge door briskly and the bottle of milk flew out and landed on your cream that was chilling on the larder floor. It's made quite a mess but the Min Pins are licking it up. You might need to buy some more. Cream, that is, not dogs."
Since we made Mildred's butter (following her ingredients but using an electric whisk
instead of a churn) we have become totally hooked on home made butter. It tastes better than the best French butter, freezes well and is a joy. When we realised that we were down to our last slice, we divided it equally and scraped it carefully over our toast.
"I only want to eat home made butter from now on," munched Danny.
"Is there anything left in the bowl at all?"
"Yes, quite a bit. The cream splattered everywhere but I reckon that we've only lost about a third."
The cream had undergone a night in the airing cupbard and was onto its second stage. We had to continue forward. So this evening we shared the butter making duty. As Danny scrubbed the larder floor I whipped the cream and, when it turned to butter, we took turns at washing the out the remnants of buttermilk and finally squidging all the water out of the pat. The entire process took half an hour and we ended up with two pats of creamy butter. Magic.
Do try this, you won't regret it. A small pat of this would be a great surprise present for a friend. I have considered doing this but I am ashamed to say, reached for some jelly rather than give away our precious discovery. Mildred you are a star.
Leave a reply