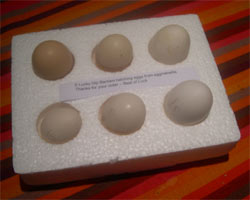 I stood in the bay window in Emma's kitchen watching the bantams sunbathe like languid couples on a Greek island. I'd noticed that her bantams pairs tended to stick together whereas the Buff Orpingtons didn't. In fact they couldn't. There was just one Buff Orpington cockerel with a handful of pretty, plump wives.
"You couldn't have six husbands and wives as the cockerels would fight. One always has to be the master of the flock. With the bantams it's a bit different. They tend to stick to their breeds and we only have one pair of each breed."
"But how do they know that they are the same breed without mirrors."
"No idea. But they do."
This was years before I started keeping chickens. I'd never really thought about the dynamics of a flock before.
"What happens if you get cockerels in a brood of chicks?"
"We try and find homes for them. It's difficult as most people only want hens. Collecting eggs each day is fun. Cockerels used to be fattened up for the pot. Now people are a bit squeamish about eating their own stock. Especially if they have to kill them."
She handed me a cup of coffee and added,
"My aunt keeps chickens, buys hatching eggs from breeders and has never had to deal with a cockerel for the last twenty years."
I was intrigued. Emma explained that her aunt used a pendulum to discover the sex of the eggs. All supposed ˜male' eggs were tossed in the bin.
When the box of hatching eggs arrived in the post from Eggmanellis, I thought that it would be fun to try this eccentric method of forecasting the sex of our chicks. I slung my amethyst ring on a length of cotton and worked out the parameters. If the ring followed a circular path above the egg the chick would be female. A simple, linear pendulum movement would indicate a male.
I closed the door to the rest of the cottage, opened the box of eggs and concentrated hard. The pendulum swung in a definite line over the Frizzle egg and moved in a circle above the other five. Good news, if it's right. The Frizzle egg wasn't tossed in the bin but put carefully under Mrs Boss with the rest of the eggs.
I'm on tenterhooks to see what we end up with when the chicks hatch out. Although it will be quite some time before we can accurately differentiate between pullets and young cockerels. I've checked the stats on using Old Wives' methods – it's 50:50.
If we do find that we have a cockerel or six, we can't keep them and remain on speaking terms with our neighbours. A chirpy wake up call at the crack of dawn would not be welcome.
There appears to be no scientific method of sexing chicks in the egg. Meanwhile the standard methods of sexing day old chicks are outlined here.
Leave a reply