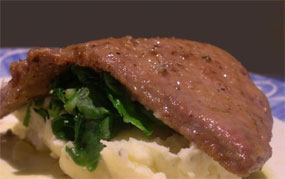 I found some calves liver knocked down to half price in Waitrose last weekend and bunged it in the freezer. Danny is a big eater and normally I'd have to shell out over seven quid for the two of us at full price. Generally my trolley wheels glide hopefully up to the calves liver section only to spin silently towards the sausages. It was the first time in five years that I found enough calves liver for under £3.50. I was jubilant as I swung the carrier through the front door. I knew that Danny wasn't impressed but he was too polite to say.
Last night everything changed.
Sometimes the simplest recipe is best if you are lucky to find really good meat. It was Danny's turn to cook.
"These slices of liver are so thin," he held them gingerly and examined the back of the pack for the cooking method. His nose also pointed to the cookery books in the kitchen. His final recipe was a combination of the pack instructions and the Gary Rhodes tip – point 4.
When he took the first mouthful he twinkled and nodded and slowed right down to savour the combination of tastes. Soft calves liver, with fresh spinach and champ (creamed potatoes with spring onion). A perfect combination.
Simple calves liver recipe (for 2 greedy people)
Ingredients:
300g of calves liver (our liver was 0.5 centimetres thick)
25g of butter
2 tblsp of olive oil
2 tblsp of seasoned flour
Salt and pepper to taste
Method:
Heat the olive oil in a heavy based saucepan at a medium heat (D cooked it at 4 (we have a 0-10 knob setting).
Meanwhile coat the calves liver in well seasoned flour.
When the oil is warm fry the calves liver for 2 minutes.
Add 25g of butter, let it melt for 20 seconds ( this is recommended by Gary Rhodes – not adding the butter at the beginning)
Turn the liver and season the cooked side with salt and pepper.
Cook for a further 2 minutes.
Serve on warm plates A good rounded Rioja is great with this.
Leave a reply