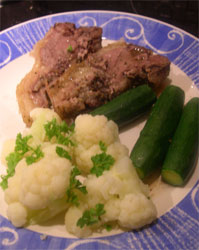 Rack of lamb (best end of neck) is such a treat. There are 6-8 cutlets on a joint. Sometimes we treat ourselves to one from Fred Fitzpatrick's. His chops are much chubbier than the supermarket ones so he cuts the rack in half and we pop one half in the freezer.
Our freezer clearing project has unearthed several delights and tonight we ate a half rack of lamb that had been languishing in the freezer disguised as something else.
For years I used to order rack of lamb when I went to a restaurant, imagining that it would be a palaver to make. Then I dropped in on a non cooking friend. She was preparing one of Fred's half racks for a dinner á deux with her new lover.
"It's easy. Set the oven to 180c (160c fan) sprinkle them with herbs, pop them in a dish, add a glug of wine and roast them for 30 minutes or so depending on weight. And you have gravy from the wine and the meat juices."
And that's all you do. Allow 400g for two (perfect with a starter or pudding) and roast for 30 minutes for rare. Add five minutes for if you like them medium rare and another five or ten minutes if you want them well done. You can plunge in a knife and separate them to check how well done they are. They are very user friendly and will happily be bunged back into the oven if they need a little more time.
Leave a reply