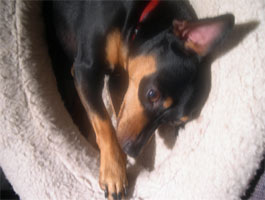 For the past few days the dogs have been allowed upstairs to sleep. The bedroom is a territory without dog baskets. They would be an affectation. On the rare occasions that the dogs are allowed upstairs, they sleep in our bed. Our tribe love the treat of leaping onto the human dog basket. Each one moves to their favourite spot and settles in an instant. Not one canine wants to rock the boat.
This is fine on a calm night but last night we were all kept awake by the storms. Thunder, lightning and drumming rain. As we tossed and turned the dogs found themselves adrift on a choppy sea – I sensed a scrabbling of paws in the darkness. This morning we woke bleary eyed after seemingly seconds of sleep.
All mammals were snappy at breakfast. The dogs have slept all day but D and I are exhausted. We have filled hotties and are going to bed early without dogs or even the comfort of a good book. Once we've plumped up the duvet and pillows we'll be asleep within seconds.
Zzzzzz.
Meanwhile the dogs are back on guard duty downstairs.
Leave a reply