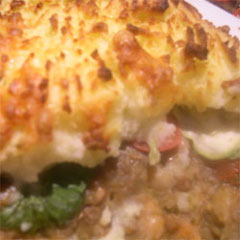 Last week was wet and cold and gloomy. I fancied some winterish flavours and felt inspired to try my hand at creating a new vegetarian dish. I wanted to make something that would avoid the palaver of many veggie dishes. A dish that I could leave bubbling in the slow cooker for hours, that didn't need loads of preparation, required no frying off and wasn't packed with tomatoes, chilli, cheeses and sweet peppers.
I wanted the subtleness of deep English wintery flavours. A vegetarian dish that I could imagine being served in an individual pie dish at traditional English restaurants such as Rules or Simpsons in the Strand.
"Why not make the filling in the slow cooker? It would be low fat."
Suggested Danny as he eased the butter across his morning toast. Lavish scrapings in the morning require moderate fat in the evening. It's a balance after all.
We have enjoyed Delia's Vegetarian Shepherds Pie for months now, cooking it in large batches and freezing the filling in portions. I love the way she uses fresh sliced tomatoes between the bean and vegetable mixture and the mashed potato topping. But the dish is a palaver to make, and I find myself hanging about in the kitchen for hours.
Using Delia's recipe as a starting off point, mainly for the balance of beans and pluses to root vegetables, I felt sure that the slow cooker (crock pot) could save on my time. And it did. With a slow cooker, or in the slow oven of the Aga, the filling for this pie is a doddle to make. The slow cooking also enhances the flavours.
The beauty of this recipe is that everything, apart from the mushrooms are tossed into the pot at the same time. No need to fry the onions or vegetables. So the filling is quick to prepare and virtually fat free.
We tried the pie with various fresh vegetable toppings, under the mash. Thinly sliced courgettes, fresh spinach and tomatoes. The spinach and tomato combination was the clear winner. So in the end tomatoes were included!
We make our mash using a potato ricer. A great investment as it makes lump free mashed potatoes effortlessly. I stirred in a heaped tablespoonful of English Goat's yoghurt (the 0% fat Greek version just doesn't work) and a dash of rape seed oil and lashings of ground white pepper. I finished it all off with a large handful of Cheddar cheese. Perfect.
Vegetarian Comfort Pie recipe for 4 hungry people
Ingredients:
1 clove of garlic chopped fine
60g chopped onion
110g of flageolet beans (soaked for ten hours)
25g of big green lentils
75g of green split peas
75g of small brown lentils
600-750ml of hot vegetable stock (I used 2 tsp of vegetable stock powder)
quarter tsp blade mace (chopped fine)
1 tsp of vegetarian Worcestershire sauce
1 dessertspoon of dried mushrooms (chopped fine and soaked for 5 minutes in a little boiling water. Soaking water retained)
1 tbsp of mushroom ketchup
100g of peeled chopped carrots
100g of peeled chopped celeriac.
125g finely sliced mushrooms (added for the last half hour)
quarter tsp of smoked paprika
quarter tsp of cayenne pepper
Large handful of chopped parsley
1 dessertspoon of chopped chives
Salt and ground black pepper to taste
Fresh vegetable topping:
100g of fresh baby spinach leaves (washed)
125g of thinly sliced tomatoes (no need to skin)
600g of potatoes, mashed with a heaped tablespoon of goats yoghurt, a good dash of rape seed oil and lashings of ground white pepper. Salt to taste
Method:
Having soaked your beans for ten hours, bring the flageolet beans to the boil (fresh water) and simmer briskly for ten minutes.
Add beans, pulses and vegetables to the slow cooker.
Add the chopped onion, carrot and celeriac.
Add the dried mushrooms, their water and the mushroom ketchup and Worcestershire sauce.
Add the hot vegetable stock and either set the dial to auto or to high for a few minutes until the stock begins to bubble. Switch the dial to low and leave for 4-5 hours until the beans are soft.
Add the sliced fresh mushrooms for the last half an hour or so, with the smoked paprika and cayenne pepper.
when the filling is cooked add salt and ground black pepper to taste and stir in a large handful of finely chopped parsley (at least 2 tablespoons of fresh parsley).
Put the mixture into a pie dish and top with the chopped chives. Add the layer of spinach leaves and then the sliced tomatoes. Finish with the layer of mashed potato and a good handful of grated cheddar cheese.
Bake in the oven for 30 mins at 190c (170c fan) until the top is golden brown.
reheated from cold the dish will need about 40-45 minutes.
Leave a reply