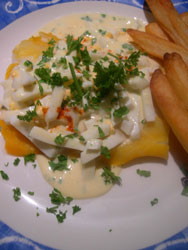 I love the combination of smoked fish and hardboiled eggs. I'm a sucker for kedgeree especially the fragrant recipe at the back of Rich Stein's Seafood Lovers' Guide
. A couple of days ago I retrieved some smoked cod from the freezer and dallied momentarily with the thought of making kedgeree. Laziness was the inspiration for this dish. I'm pleased with this recipe. It is very quick, tasty and rather classy. Both the fish and the sauce took just minutes to cook. The chips were a bit naughty but worked well with the fish.
Smoked cod with egg and crème fraîche sauce recipe

Ingredients:
500g of smoked cod (or haddock)
2 hardboiled eggs (medium size)
2 tablespoonfuls of crème fraîche
A dash of white wine
1 tablespoon of Parsley chopped
Sprinkle of Picante Pimentón (or cayenne pepper) to garnish
Method:
Boil the eggs for ten minutes and then plunge them into cold water. Wait for them to go completely cold, remove the shells and chop them.
Bring some water to the boil in a pan and poach the fish for three or four minutes until cooked. Remove the fish with a slotted spoon to a warm place.
Heat the crème fraîche gently, stirring constantly (a frying pan is good for this) until it thickens.
Add a slosh of white wine and stir.
Add the chopped egg and half the parsley and stir for a few seconds to heat through.
Pour the sauce over the fish. Scatter with parsley and a sprinkle of Picante Pimentón and serve.
Leave a reply