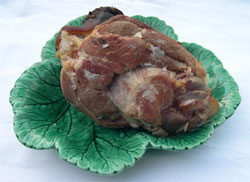 Yesterday, I decided to go treasure hunting in the freezer. Usually I find loads of stuff with freezer burn. Today I spotted a smoked ham hock. Not just any old ham hock. This discovery shifted Danny from the swing seat. He had to check that I wasn't teasing. The dogs were alarmed. I don't think they'd ever seen him run before.
We enjoy Mark Hix's Saturday column in The Independent. He comes across as a thoroughly good bloke and his recipes work well. He also occasionally recommends suppliers and last year pointed us to the best smoked ham hock that we had ever tasted.
So good in fact that any day out, anywhere in England, seems to mysteriously include a visit to Richardson's Smokery, Orford, Suffolk. Their website is http://www.richardsonssmokehouse.co.uk Everything that we have tasted from this establishment, from their bacon to their hot smoked salmon, is excellent. The smoked eel is wonderful and has foodie friends baying for more. Richardson's has an attractive quirkiness that draws you back. They do mail order. The ham hocks, if you can bear to give them away, make good presents and they freeze well. They were under a fiver a piece when we last bought one. No, we are not related to Steve Richardson or any of his staff. We just like the place.
We usually combine the trip to the smokery with a pig-out at the Butley Orford Oysterage, just around the corner from the smokery. The Oysterage specialises in fish and seafood dishes. You need to book, as it's always very busy 01394 450277. The food and people watching are both excellent. We had our Christmas Works Outing there last year, just the two of us enjoying a long exquisite meal.
There is no connection between Richardson's smokehouse and the Butley Orford Oysterage, as the Oysterage clearly underlines on their menu. The Oysterage has its own smokery and oyster beds.
Leave a reply