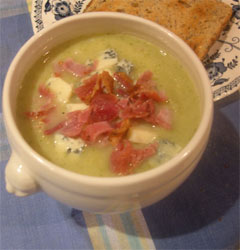 Years ago I met a lady who had married a famous Hungarian film director. They ran away together and rented a flat somewhere in Europe. Neither of them could cook. She had heard about one pot cooking. Apparently this magical pot stood constantly on the stove. Every day you threw in various tasty things. Cooked them slowly through and the leftovers were the base of the next day's meal. After a week they gave up. The pot had become rancid and vile. In fact, from that day on they never cooked again for the rest of their lives.
Sometimes I long for the magical pot that works.
I have started getting up a bit earlier in the morning and making soup. I am just too tired in the evening to tackle this task after supper. But early in the morning it is a joy.
We are now getting into the heart of our soup making season. We eat a lot of soup in the summer but it's the winter soup that really appeals when the days are cold, crisp and short. Soup for lunch every day does wonders for my figure and it is far more sustaining than my doorstep sandwiches that are thrown together when I am on red alert and late for work.
This soup was designed to counter the cold grey day. By the time we were eating it at lunch time we were looking at sunshine and blue skies. This is a hefty soup. The blue cheese added small explosions of wow. Next time I'd leave out the crispy bacon garnish as the cheese completely stole the show. Serve in warm bowls with crusty bread if you have some. We made do with toast.
Broccoli and celeriac soup recipe with a Gorgonzola cheese and smoky bacon garnish
1 medium onion (sliced fine)
1-2 tablespoons of olive oil
350 g of peeled and sliced celeriac
1 head of broccoli stalk sliced and florets cut and reserved for later
0.5 teaspoon of dried tarragon
1.5 pints of stock made with 0.5 chicken stock cube and 2 teaspoonfuls of Marigold stock powder
100g of chopped gorgonzola
2 slim grilled slices of chopped smoky bacon to garnish
1 dessertspoon of lemon juice
0.5 teaspoon of sweet smoked papricka
In a heavy bottomed saucepan, heat the olive oil and sweat the chopped onions for 15 minutes, lid on. Add the sliced celeriac and sliced broccoli stalk. Pour over the stock, add the tarragon and simmer until the celeriac softens. Add the broccoli florets, bring to the boil and simmer for about five minutes until the florets are just tender. Liquidise and season with a little fresh lemon juice and sweet smoked paprika. Garnish with the gorgonzola and smoky bacon. Serve with warm crusty rolls.
Leave a reply