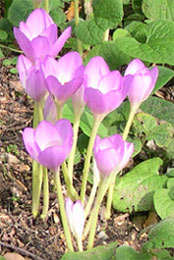 My mother remarried when I was eight. I encouraged the union. My prospective stepfather had a car, a Riley 127, and liked Cadbury's créme eggs.
Just before our first Christmas together the vacuum cleaner blew up. Back then, this was a luxury item.
"Don't worry," said Arthur as he tucked in his napkin, "I'll buy you a nice new one for Christmas."
The chirpy remark was met with a sharp retort, so swift it was hard to believe it hadn't been rehearsed.
"A hoover is a household expense. It's not a legitimate present for your new wife."
Somehow things went rather downhill from that point.
This troubled suppertime scene stuck in my memory. I never asked for household presents and have never been overwhelmed when I have been given them. The best birthday present that I ever received was a large bunch of autumn crocuses (colchicums), shyly produced by a very old friend, from a bucket in the depths of his car.
My birthday was celebrated on Friday this year. My sister had already given me a Rolls Royce set of cedar seed trays that I had spotted at Hampton Court Flower show. When Danny asked me what I would like, I realised that all I wanted was an expensive household item.
I've worked in houses and seen them in action. This present would give me something priceless, more time to have fun in the kitchen and less graft. When I explained this to my 87 year old mother she finally saw my point after the first effusive, "Surely this is a household expense," shriek.
Armed with a couple of cheques and some cash secreted for such a moment, I ventured onto the Internet and ordered the beast. My Magimix
compact 3200 strained the arms of the courier when he tottered up the drive with it on Saturday morning.
I haven't taken it for a test run yet. Just washed the bowls, fingered the attachments and read the instruction manual/recipe book from cover to cover. It is sitting on the worktop with a brushed steel finish that is almost as beautiful as the delicate colchicums that enchanted me all those years ago.
Tips and tricks:
I don't think that my friend was trying to kill me but all parts of colchicums are poisonous so wear gloves when handling them in the garden. And never toss them in a salad.
I have three to plant and they are going to go in the front garden away from Inca's jaws. She ate a large pot of pansies this summer and they have never grown back.
Leave a reply