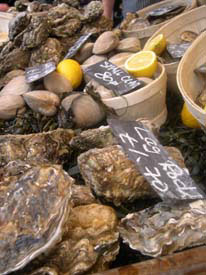 A few weeks ago a generous client gave me a large tip. Not the ˜Fiona, why don't you work a bit harder' variety. Rather, she added a day's wages to the final cheque and suggested that I could take Danny out for a meal.
So when our friends Katherine and Paul suggested a foodie day out in London, we jumped at the chance. This would be the perfect way of investing our windfall.
The day started with locating our friends at Liverpool Street station (how did we cope without mobile phones?), grabbing a coffee and jumping on a bus to Borough Market.
I treated us to a souvlaki wrap. Large rounds of pitta bread were spread with tsatsiki and a handful of fresh salad leaves. This was topped with delicate soft melt in the mouth feta which balanced perfectly with the tender char grilled free range lamb. Katherine, Danny and I sat in the sunshine beside Southwark Cathedral and guzzled silently. Paul had already filled up on oysters.
At our feet were carriers bulging with treats and discoveries.
This was just the start of a blissful day.
To be continued tomorrow. Off to bed now, exhausted.

Leave a reply