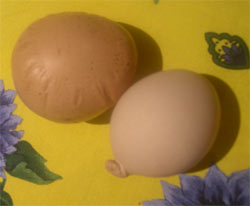 Sometimes I find an egg with a small deformity on the shell but last month I found these two weirdly shaped eggs. What was going on?
The larger one is Carol's (aged three) and the one with the twist was laid by Barbie (aged four).
I rushed back to the cottage and fired up the computer.
DEFRA has a good, informative article relating to eggs here. Irregularities in egg shells can indicate a host of horrifying diseases. However as Carol and Barbie look well and healthy the cause is clearly age.
If you don't replace your hens every two years you will eventually start to get the occasional strange egg. They are perfectly OK to eat they just look odd and because you are used to collecting perfectly shaped eggs alarm bells will ring.
Since then Carol has generally laid perfect eggs but if she misses a day or two the eggs that she lays are ridged and unusually shaped. She is a laying breed with a good steady egg laying pattern. This combined with the fact that she is three years old all contribute to the likelihood of laying eggs with irregularly shaped shells.
Make sure that your flock have access to grit and oyster shells (a good source of calcium). Feed them a decent quality feed – layers pellets or mash. If your flock are elderly maidens they are more likely to produce unusually shaped eggs.
Leave a reply