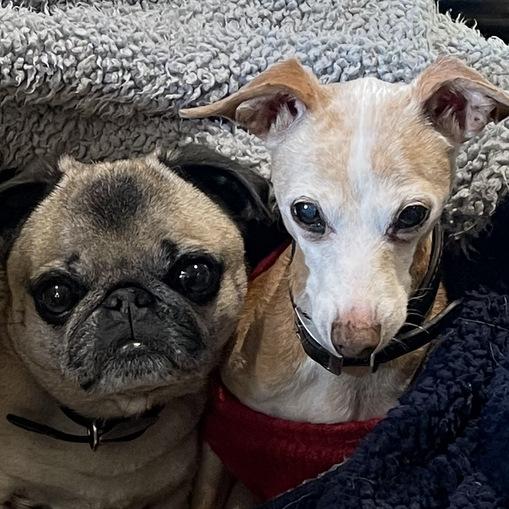 After her sister Fanny died, back in November 2022, Roo was bereft.
Fan had barked for her, led her and chatised her when she didn't fall into line. With Fan at the helm, Roo was always protected. Fan was particular in her likes and dislikes.
My sister's pugs, along with Grump Pot Puskin, were high up on the list of persona non grata. Fan gave them all hell.
In fact when I buried Fan. Pushkin attended the funeral. Purring loudly as each spade full of earth covered her up.
Roo mourned for weeks. She loves the comfort of the long hot water bottle that I bought for her as her sister had kept her warm. Even though she was given treat food and loads of affection I worried that she would eventually die of a broken heart. Fan and Roo had been together for over 13 years after all.
Everything changed when the pugs last visited. Suddenly love was in the air.
Toffee, a well known Don Juan sex pot, set his ears in a bow and siddled up to Roo.
Clearly a believer in platonic love, Roo snapped her way out of any possibility of a carnal laison. She is an old lady after all. Surprisingly Toffee, accepted this. He was just happy to cuddle up beside her in the basket and enjoy the glow of Roo and of course that wonderful hottie.
Poor Fudge, his brother, lies hunched and alone in the pug basket. He does have a hottie too but it's just not the same as his brother.
What a dichotomy. I was worried about Roo and am now concerened about Fudge. The latter is a sweet natured, not over bright pug completely overshadowed by his intelligent brother. He is now being given deep muscle massages observed by the love birds who clearly have no need of such things.
I love dogs but they are never as straight forward as they seem. Like us they need love and attention especially when the going gets tough.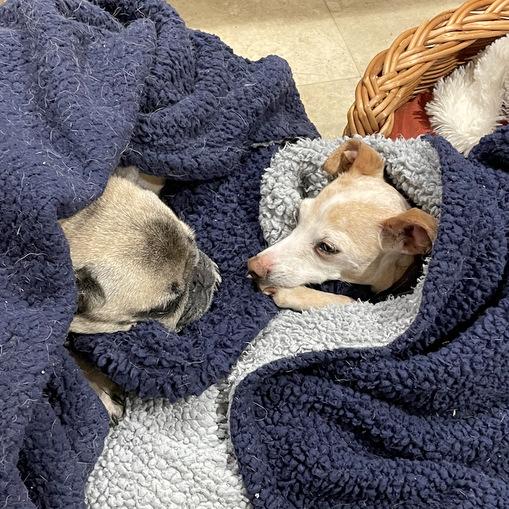 Leave a reply