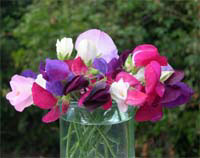 There is nothing to compare with picking the first posy of sweet peas. The heady scent from something so delicate. The fragile flowers, at best with buds. We have a special vase for them. I think it might have been home to a scented candle once but it is now perfect for these flowers that fade so fast. When the vase is off duty it sits on the windowsill with the other special things: the Buddha, the basil, my frogs.
When I first came to live here a friend from London used to stay regularly at weekends. Her grandfather had been Head Gardener at a big house. Every year he would grow sweet peas that clambered up an arched walkway. Apparently the smell was heavenly.
Every year I think of my friend's grandfather. I once tried to recreate the sweet pea walkway without success. I still try and extend their flowering period and this is the best summer so far. I'm sure it's down to planting them with the runner beans. This is supposed to increase the pollination for both crops. As they both love gallons of water, it's easier to care for them when they are growing together.
When I've put sweet peas elsewhere they were often forgotten in the evening watering. The sweet peas have not climbed the canes this year and remain a bit stubby and bushy but they regularly produce a small fresh bunch to delight us.
Picking sweet peas this evening, with the woodpigeons calling softly to each other in the woods, the garden seems to take on a timeless quality. I could be six or sixty, the happy gentle pleasure would be the same
Tips and tricks:
Sweet peas are greedy feeders and benefit from being planted in a trench filled with good stuff from your compost bin. If you put bunched up newspaper in with the compost this will help to retain moisture.
Keep cutting the flowers. If the seed pods develop the plants will go over very fast. If you see seed pods, cut them off immediately.
For an earlier show of flowers, plant seeds in pots and over winter them in the cold frame or green house. You can always plant some seeds in the spring to extend the season.
Leave a reply