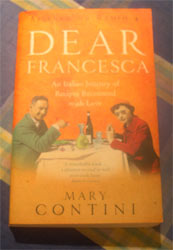 I was tagged today by Kay over at Writing Neuroses. Kay is a writer and when I visit her blog I often wish that I had more time to dive in deeper and submerge myself in her site. Kay's is a different and fascinating world. She is also still waiting for her pay it forward present, which is still at the concept stage. So guilt has led me to answer her tag immediately.
Kay gave me a new twist for this tag. She hoped that I would have a cookbook beside me as she wanted this tag to take on a foodie slant.
This was a bit of a problem as the tag is this.
1. Pick up the nearest book.
2. Open to page 123.
3. Find the fifth sentence.
4. Post the next three sentences.
5. Tag five people, and acknowledge who tagged you.
It took a while to find a cookbook that didn't have a list of ingredients for the sixth, seventh and eighth sentences. This book wasn't beside me on the table but I'm determined and have unusual elastic arms.
Dear Francesca
– An Italian Journey of Recipes Recounted with Love by Mary Contini, is a superb book. Packed with reminiscences and recipes, it's the perfect tome to curl up with in bed before you beat your way to the kitchen. Mary Contini's great grandparents parents moved to Scotland from Italy with very little. They grafted hard and built up an ice cream business and did well. They branched out into other areas. They always held onto their Italian culture whilst embracing their adopted land.
The book is an inspiration. Full of sound advice and tantalising glimpses of her family and the way that they have cooked for generations. Page 123 has a recipe for homemade ricotta cheese. Thank you Kay. We are grappling with making feta at the moment and the idea of home made ricotta makes an inspiring and welcome diversion.
The three sentences are:
"You can buy ricotta easily these days. Tubs of pasteurised ricotta are available, but can be a bit dull and heavy. Freshly made ricotta or farmhouse ricotta has a soft, smooth light texture with a creamy sweet flavour."
I am tagging 5 foodie people, with the hope that they will continue the foodie slant to this meme. In no particular order.
Joanna at Joanna's Food. An interesting and immensley readable healthy heart foodie blog, amongst other things.
Gillie at Skybluepink. A witty new blog that makes us laugh.
Jules at Domestic Godess in training. Always interesting stuff.
Pat at Pat's Food blog. This blog is packed with inspirational recipes.
KJ at A Cracking Good Egg. Wonderful recipies and photography.
Leave a reply