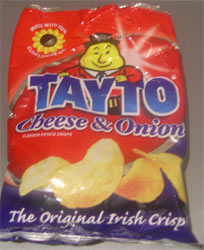 Donagh laid the long pack of breakfast sausages (16 sausages per pound weight) on the kitchen worktop.
"What have you got there?" Danny was curious.
"Back in the forties when our Mam was young and training in Dublin, she was instructed to bring a pack of Hafner's sausages home to Oylegate each weekend. It was imperative that she carried out the mission. The company eventually vanished but a few years ago someone found the recipe and they started production again. I've bought a pack of Denny's too. The famous Jumbo Gold Medal Sausage. I just thought it would be good to try them together."
The sausages looked unnaturally pink. Irish sausages are different. A universe apart from Musk's. I included some of each for our Saturday brunch. On our plates they nestled beside Fred's own bacon, Cottage Smallholder eggs and gently toasted granary bread. The sausages were good but very salty. Hafner's won hands down, slimmer than Denny's. But they had the better depth of flavour.
With a magical rustle, Donagh produced 4 packs of Tayto crisps from his suitcase. Danny grabbed a pack and tucked in. Apparently if you have been parted from Tayto crisps, nothing matches the familiar flavour and crunch.
I always forget that Danny is living abroad. Familiar wafts and tastes are hot wired into his psyche. However happy he is, sometimes he must pine for the tastes of home.
If I was living away from the UK, I'd rather receive a pot of Marmite, than a bottle of the best Champagne. Forget the Belgian chocs, a small box of decent tea bags(Twinings 1706) or a jar of Patum Peperium would have me carrying the heaviest suitcase upstairs with a chirrup.
Leave a reply