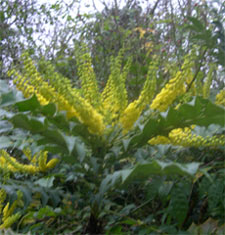 "Never plant two of anything in a group. Even numbers just don't work. Stick to odd numbers one, three, five or a drift." Roger Sagger (R & R Saggers Nursery Garden, Newport, Essex).
This is probably the best piece of gardening advice that I have ever been given. If you think about it, Roger Sagger is right. Imagine four tulips in a border and then consider how five would look. The odd number gives a natural feel to the group. Unless they are planted in a straight line.
I have only one Mahonia x media Charity. It grows in a rather dry shady area of a south facing border in between the oil tank and an old tree stump. It was overshadowed for years but the wet summer clearly has clearly has given the Mahonia the perfect boost.
I opened the back door a few days ago and noticed that it had five huge flower heads. Each was in bud and gearing up for action. Today the buds have just started to open. The flowering heads must be a foot across and the scent is superb. The perfect foil far a damp and overcast morning in early December.
Leave a reply