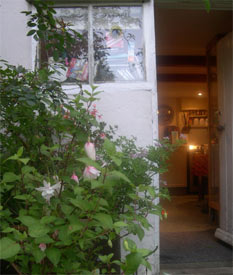 An immense pot stands beside the back door step. The pot holds roughly 100 litres of earth. It has stood there for about three years now and this evening Danny noticed the pot for the first time.
"Wow. That pot is enormous. How much did it cost?"
"I bought it years ago."
"It's stunning." Visibly relieved that the pot had not made a massive dent in the housekeeping budget.
It's a simple pot but the spot, north east facing, cried out for a hefty container that would give plants a decent chance to thrive without the help of afternoon sun and daily watering. The pot is just watered once a week. Perfect.
There also is something special about the pot. Somehow every plant that is put in it does well. D has never noticed the pot as he is always distracted by the contents.
The big pot is a miniature auditorium that delights us all year.
It's also too tall for a peckish Min Pin to reach. We used to grow violas and pansies in low pots but Inca discovered that these were particularly tasty. It must have been disappointing to discover that they are not a cut and come again salad crop. After a month of munching, the plants just gave up. This winter we planted violas and species tulips in the big pot well out of reach of Inca's jaws. And treasured the fact that she passed them every day oblivious of the decorative smorgasbord.
This evening the downstairs of the cottage is filled with the aroma of the scented geraniums that over wintered in our greenhouse and have been waiting patiently in a long queue of plants ˜to go in'. This afternoon I took pity on them and hoisted out the leggy violas that had done their job valiantly throughout the winter and spring.
The scented geraniums were joined by another friend, a pretty pelargonium that must be a real old lady by now. She is gnarled and twisted but enjoys her summer sojourn in the garden. I'll take cuttings from them all in the autumn just in case they don't survive their rest in the greenhouse this winter.
For now we are celebrating their survival. Immense plants with a history and happily settled in the big pot for the rest of the summer. They sit beside a large and blousy ballerina fuchsia that I have nurtured since she was given to me as a twig in bud, many years ago.
Leave a reply