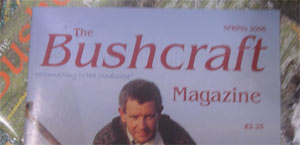 We have newspapers delivered at the weekend as a treat. Years ago I used to spend Saturday and Sunday morning in bed, grazing my way through them. Now I'm just too busy.
Magazines are different matter. These are kept in a pile beside the loo. We have recently discovered a great quarterly, The Bushcraft Magazine.
Following an email conversation with Huw Woodman, one of their writers, we were sent some back copies and have spent many happy hours immersed in this wonderful magazine. We are thrilled to announce that we have now linked up with The Bushcraft Magazine and will be publishing an article of interest once a month on our site.
When the parcel arrived we settled down to read them after supper. Danny broke the silence with the first whoop of joy – there were instructions for making a modern billy can. The second followed soon after and the third as we examined the magazines in depth.
"Did you know that sour dough has health benefits?" Danny glanced up at me, "Perhaps we should try making it."
"I'd love to but not now. I am reading about how many words the Eskimo language has for snow."
"I think that you should make an atlatl. It would be great for foraging as it has a handle."
"But that's a kind of axe! I'd much rather make the chunky shrimp net and spend a day at Hunstanton. Imagine eating our own potted shrimps. Years ago I shrimped with a baby net. I had no idea that these big nets existed.""
The Bushcraft Magazine is a gem. It was launched in Spring 2006 and having spent a week or so with a small pile of back issues it has got under my skin. It is packed with interesting articles from Fergus Drennan cooking road kill to easy identification of seasonal forgeable fruit, leaves and fungi. There are practical instructions on how to make your own equipment, loads of great photographs for identification and every article is well written and most are bursting with tips.
It is the sort of periodical that you sit down and read cover to cover. And return to again. Even though I don't want to make a longbow, I loved reading about making one and come the revolution who knows!
The covering letter from The Bushcraft Magazine outlined their boundaries.
"Our magazine is a broad church with a deliberately wide range of articles. We are not, at any price a hardcore survival magazine." They added, "We've discovered that a large proportion of our readership consists of women, often with children, who like the idea of reconnecting with the landscape and to engage their children with the process."
Danny glanced up from reading an article on healing wounds with herbs.
"Men would like it too. It's packed with boys own stuff that I actually want to do."
He got up to poke around in the larder for a large tin to start his project and held up a giant tin of peaches.
"Can we have these for supper, for the next five nights?"
The Bushcraft Magazine have started to run courses that are extremely popular both with individuals and families. I am sad that I missed this year's foraging courses. They sounded interesting and fun.
If you love foraging, want to hone your basic survival skills and connect with nature this magazine could be just the thing for you. An annual subscription is just ?10. This would make a great Christmas or birthday present. When you subscribe, The Bushcraft Magazine sends you a card and the latest issue so if you give this as a present there is something to open on the day.
I subscribed tonight. Danny may find this in his Christmas stocking. There is a tiny rub. You can only subscribe and pay through Pay Pal or use a conventional cheque. Jump through hoops to buy this magazine. It's worth it.
Leave a reply