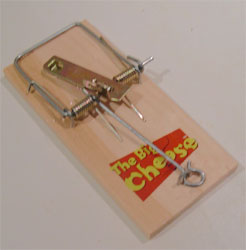 A couple of nights ago I noticed a small movement on the top of the cooker. Thinking that I'd imagined it I turned my gaze back to the laptop screen. A few minutes later I looked up to see a tiny mouse eating the crumbs from my midnight snack of marmite on toast on the plate that I'd left on the side. Teeny, perfect movements. I got up and roared. Rather fun late at night. He froze for a second before disappearing behind the cooker. One small foot hanging onto the side as paused to work out his descent.
I thought that the dogs would get him but he was clearly an Einstein amongst mice and kept well out of their way. Last night I found some mouse droppings in the cupboard beside the oven, so nipped out to my shed to find the maxi pack of traps that I had bought at the garden centre a month ago for this very purpose.
I like mice. If they didn't pee and poo and gnaw the wiring, they'd be welcome here. I decided to set the trap just before I went to bed. So, for one night only, I let him scamper without bounds. Out of the corner of my eye, I watched him place a minute front foot on the top of the oven and hoist himself up. He stood quite still, observing me with unblinking beady eyes. After few seconds and he began to play. Knowing that his hours were numbered, I tried to concentrate on my screen but the mouse drew my eye as he ventured further and further across the worktop. Occasionally I'd get up and he'd fly behind the tea caddy. A tiny endearing creature. Finally I couldn't bear to watch anymore.
Feeling like Dr Crippen, I set the trap, baited with some of the delicious pork and bramley casserole that we had enjoyed for supper. The dogs had watched every enjoyable mouthful and I bet the mouse had been peeping out too.
This morning I gingerly inspected Death Valley. The trap was empty. No pork. No mouse. His touch had been so dainty that he hadn't even sprung the trap. We re-set the trap this morning with a scrap of dry ham. By this evening the ham and trap had done their job. I didn't feel quite so bad, as he'd clearly enjoyed the pork and come back for more.
After a brief period of mourning for our mouse we will publish our excellent pork casserole recipe.
Leave a reply