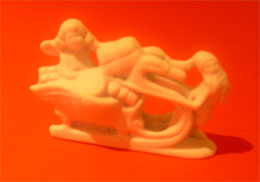 Just after the second world war, my parents were stationed in Germany and bought a small bisque snow baby to decorate their Christmas cake. It was happily waving and sledding on the cake each year for as far back as I can remember.
"I've kept this snow baby for years," my mother would say as she soaked the icing off the sled after Christmas. A tiny reminder of a happy time. A few years ago it vanished.
I don't know whether it was on a slice of cake that my sister or I took home after Christmas, or whether it was eaten by a short sighted relation. But the next year, when my mother opened the box of Christmas decorations, the snow baby had gone.
This did not go down well. My mother's Christmas was ruined. Every slice was eaten with a sigh. She did not believe in that silly law "innocent until proven guilty". My sister and I were accused in turn. It quite put us off the cake.
Just before Danny spent the first Christmas with my mum, I filled him in on the Snow Baby Heist. He scrupulously accompanied every decoration from the table to a place of safety, my mother nodding with approval.
A few years passed. One Christmas, at the end of her stay, she left the remaining cake in the larder inside a carrier bag. It was totally forgotten about. A month later, holding the cake inside the bag, I pulled out the plate and tossed away the cake. Nice neat job.
A few days later, Danny asked where I'd put the decorations. With a ghastly sickening chill I realised that they had been left on top of the cake and had been collected by the dustmen. The final treasured pieces were already shredded and dumped in a landfill.
We managed to fend off my mother's enquiries, hoping that she would forget by the time she came to stay at Easter. Her first words, as she opened her car door were,
"Before I forget, I want to put the cake decorations in the car. Now."
Thinking on my feet, I explained that we couldn't find them (true) and that they were probably up in the attic (lie). By the end of the Easter visit, I was convinced that she couldn't be palmed off with any more excuses. A sore leg had stopped me climbing into the attic to retrieve them (lie). I couldn't continue to walk with a limp forever. I had to replace them. But where could I find Christmas cake decorations from the fifties? As I waved her car goodbye, I had a flash of inspiration.
eBay.
£120 later, my mother now owns an extremely valuable collection of early to mid twentieth century Christmas cake decorations.
Leave a reply