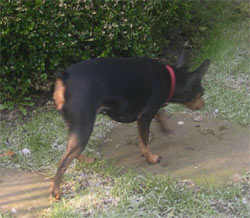 The stocky man outside the front door looked a bit embarrassed. I assumed that he was going to offer to prune my trees or tarmac the drive. With a sweep of his hand he explained that he was a neighbour. He didn't give his name. As The Contessa and Inca bawled at him from the safety of the sitting room window he let rip.
He jabbed a finger in the direction of the roaring dogs behind the steamy window.
"Those are the reason why I have come round."
He observed me closely and enunciated clearly.
"Every time I go into my garden they yap. I open the shed door they yap. They ruined the barbecue that we had last summer. Our guests said,
"How can you cope with this?"
I know that they are a yappy breed but please do something about them. Our dog doesn't bark. They're driving me nuts. Everyone agrees with me. They are a nightmare. I can't even strim in peace. It's just yap, yap, yap…" He went on and on, with a much stronger bark, for a good ten minutes.
I let the rant wash over me. I hadn't brushed my hair, was wearing outrageous pyjamas and hadn't even started to think about breakfast. I was also containing our oldest Min Pin, Dr Quito. Who had sensed danger and was snarling from behind my slippers.
"Why there's even another one there!"
Here was the unseen Bank Manager that Inca (our youngest and most territorial dog) has taken a real aversion to. Our garden backs onto the gardens of six houses. He moved into one last year. We've never had a complaint from anyone before.
"I came round last week and there was no one home! I realised that the dogs have access to the garden when you are out. They have to be shut indoors."
When I nodded he softened a bit.
"I have heard you calling them in when they're yapping."
Of course he had, there is nothing worse than a yapping dog. Our dogs have access to the garden through a cat flap. In summer an open back door, when we are at home. As he strode down the drive I realised that we needed to do something about this fast, before it was too late. The set of his neck indicated extensive petitions and complaints to the police.
Danny and I discussed the options. "I'm amazed that he didn't mention the chickens and guinea fowl."
From the depths of the garden we heard Cloud's piercing, repetitive call.
"Come home, come home, come home, come home… Come home, come home, come home, come home…"
The main culprit is Inca who is six years younger than the next dog. She loves a good bark. She plays for hours on her own with rings and balls but often gets bored and then she patrols the fences looking for intruders. Following the BM's visit we had a yap free day. Had the dogs understood our mutters of ASBO and the possibility of being "put down"?
We decided to give the younger dogs a hearty walk each morning. Dogs will be locked in the cottage when we are both out and we've organised a friend to let them out for a 10 minute breather at midday. This morning I searched the barn for the pack of Training Pads as there are bound to be a few accidents and these are a great way of containing the mess.
I arrived home to find four happy dogs, a clean Training Pad and the cat flap open. Danny had forgotten to pull up the drawbridge in his rush to leave. Let's hope that the BM didn't host a barbecue this afternoon.
Leave a reply