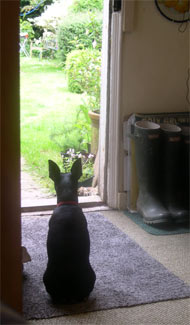 Water is expensive and so are plants. We have a water butt drip feed watering system for the kitchen garden in the summer. The initial investment has paid dividends – in time and money.
Drip feed watering is used by the poorest countries and is designed to get the best possible results from the smallest amount of water. The system encourages plants to develop good roots and search for water. This watering method combined with the oasis trick could save you money, time and energy and give you a maximum return for minimum effort in your garden.
When I first started gardening my mum gave me loads of advice. One of the best tips was,
"Never plant any perennials after the end of May. You'll have to water all summer and you'll grow to hate the plants."
Water meters were unheard of in those days. But watering can be a palaver.
The summer is the time that plants become especially important. The process of gardening fine tunes the brain to look at plants, any plants. Those in other people's gardens, wild ones on the verges and the intriguing rows on the numerous plant stalls at village fetes and jamborees. Each visit to the garden centre usually is an excuse to drift through aisles of plants. There is temptation at every turn. Sensible people might plan for next summer. I'm impatient.
So I always end up buying perennials in the summer. Initially the watering was a bit of a nightmare until my mother disclosed this trick.
"Dig a hole for your plant. Fill the hole with water. Let the water drain away. Repeat the watering and draining way process. Then fill the hole with water and pop in the plant. Gently firm the plant with earth. You have created a mini oasis. The plant does not need nearly so much attention for the rest of the summer."
The oasis trick works for me and I've used it for years. Generally I add some fertiliser when I put in the plants. At the time it often seems a bit laborious while you wait for the water to drain away but it is so worth while in the long run. The plants still need to be watered but not as much as when you plant and just water the surface of the soil. The time when the roots are getting established is not nearly so rocky.
If I forget to do the watering trick, my new treasures always seem to struggle on a hot day and need so much more coddling.
Combine the oasis trick with a drip feed watering system and you could be relaxing in your garden and saving money within a week.
Leave a reply