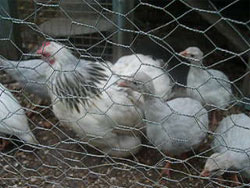 Mrs Boss has been looking after the keets for six weeks now. She is a small feather footed Bantam. And the heroine of the Farming Friends – Cottage Smallholder Interblog Guinea Fowl Breeding Event.
Mrs B has proved to be a bit of a star, hatching out five keets and tending them well. She also appears to enjoy the attention of the paparazzi.
On Sunday we decided to open the castle door and let the keets discover the world of the chicken run. Mrs Boss stepped over the threshold with a coterie of four keets, one was left behind trying to figure out how the others had broken through the wire. After a few seconds of beak tapping on the wire, the keet hit open space and shot out to join the rest.
Mrs Boss proudly led the keets around the pen. Observed by Carol, Little White One and Thumper, who decided to investigate the castle for themselves now it was finally open to the general public.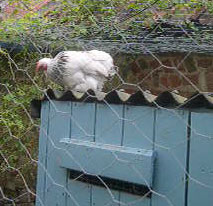 Within minutes it was clear that Mrs Boss was a hen with a mission. The keets had been testing out their wings in the castle's handkerchief garden. Now they could put these training sessions to good use and fly onto the roof of the chicken house – a handy way of escaping from Carol's thundering feet and any other sticky situations.
Only Lightning, the white keet, had the courage to fly up and join Mrs Boss. Having observed her heroic leap from the hen house roof to the top of the castle.
At dusk I went down to the run to close the castle gates for the night only to find it empty and abandoned. I followed the sound of clucks and cheeps and discovered that they had joined Mrs Boss and settled for the night in the hay filled hen house nesting box.
Their days of regal seclusion are clearly over.
Leave a reply