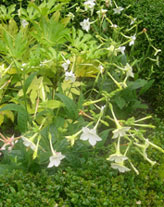 In the first part of the garden we have a round border, surrounded by a mature box hedge. As this is visible from the sitting room window and fairly near the house, I took my mum's advice and planted the beautiful hybrid Hamamelis intermedia "Pallida".
Bred from the regular Hamamelis Mollis (Chinese witch hazel), ours flowered in January. Small spider like, sulphur yellow flowers clustered close to the branches. The scent was delicate and sweet. We loved it. But in the summer the leaves looked rough and nondescript.
"What on earth is this shrub, taking pride of place in our garden?" Danny fingered the clumsy leaves in his second summer at the cottage. Being an indoor sort of person he hadn't noticed the flowers. He definitely had a point. A focal point shrub should have summer and winter interest. The Pallida had grown quite big. It was there to stay. I planted Nicotiana Sylvestris and Cosmos around it the next summer. These liked the coarse foliage and used it as support.
"The scent from that border is glorious." D was enthusiastic. The clumsy leaves were forgotten. So I repeated the fix every summer until last year. Like him, I was captivated by the flowers and their scent. One day I noticed that I wasn't avoiding looking at the clumsy leaves as there were no leaves. H x intermedia 'Pallida' was dead.
Jalopy and I visited a decent Nursery Garden this spring to replaced the shrub. The £29.99 price tag was a bit of a shock. We returned home with nothing.
A bit later I had a scout around the garden and discovered a Fatsia Japonica that had had a hard life. Rejected from a garden that I was designing, it had ended up in a large pot on the shady side of the pond garden. It had survived although it clearly loathed being in the pot. The large leaves would be a perfect foil for the small leaves of the box hedge. And it was FREE!
I dug a large hole, filled it with water twice (my mum's tip for starting a shrub off well) tossed in a handful of Vitax and popped Fatsia J into her new home. I'm sure that I heard a sigh of relief. I planted Nicotiana Affinis around Fatsia J. They have both thrived. This evening the Nicotiana Affinis smelt so wonderful that I prised D away from the kitchen and tugged him into the garden to sample the heady scent. Old varieties of Nicotiana smell wonderful in the evening. .
Leave a reply