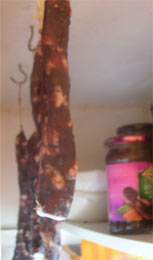 We had the day marked clearly on the calendar when we could sample our salami. 14 days since they were first hung in the larder to cure. Apparently you can taste them just to see how they are getting on and seal the cut end with a piece of lard. Generally, salami take between 4 and 10 weeks to mature completely.
They have hung in the larder, smelling delicious and getting thinner and knobblier by the day.
"What exactly are we eating?" D was dubious as I sliced through the long immature salami.
"Cured meat and garlic and stuff." I passed him a sliver on the end of the knife. He chewed and suddenly his mouth visibly resembled an elongated walnut.
"It's vile!"
"What don't you like about it?"
"The flavour!"
I tasted it. It didn't seem too bad. Perhaps the poor salami just needed more time.
Danny was much more apprehensive about sampling the second one – my twist on the HFW (Hugh Fearnley-Whittingstall) recipe. D bit down on it gingerly. Then he chewed the rest of the slice enthusiastically and reached for the knife.
"This is really good. It tastes like salami. Let's chuck out the other one. It's like cattle feed!"
"Perhaps it just needs more time to mature."
"Which has the friendly bacteria?"
"The one that you like."
Fred Fitzpatrick liked it too. And Carol and Patrick.
It was Carol's birthday yesterday. Carol (the chicken) shares the same birthday so she always sends her some of her own eggs to Carol the human to celebrate. I have to help her with the card – signed with the unmistakable three pronged chicken foot sign. I took a mini hamper of samples with me when I visited Carol's house. Slices of our latest pork pies, quince jelly and some of the salami. The Chicken Lady had sent 4 translucent duck eggs. Carol touched these first and glanced up at me.
"Aren't duck eggs beautiful?"
C and P lingered over the pork pies and loved the salami.
I am hoping that the salami will mature and taste even better. We are planning to sample it at weekly intervals. Exciting stuff.
Following Hank's advice vis-Ã? -vis temperature, Ebay now beckons. I'm looking for a meat safe (rat proof) to put in the barn. The temperature there, even on the hottest, sultry summer's day never exceeds 60 degrees. Hank advises that if the temperature exceeds 60 degrees the salami will be ruined. The temperature in the larder is now hovering at 59 degrees.
Making charcuterie is addictive and enormous fun.
Leave a reply