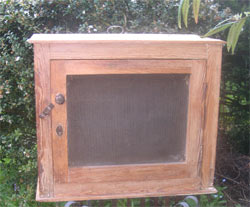 The temperature in the larder is rising with these warmer days. It is a proper old fashioned cold room but the fridge freezer lives in there and the large motor inadvertently heats the room. Great in mid winter as things don't freeze but in summer it's not cool enough for maturing my fast growing family of salami.
After the initial excitement of one salami actually tasting good, I have started experimenting in earnest. One of the ways of cutting down our weekly spend was to avoid buying speciality salami.
I have yearned for it so much that I tended to avoid the salami section of shops. Now I am haunting them, studying the ingredients, the look of them and dreaming of producing my own Cottage Smallholder recipes.
I did consider moving the fridge freezer into the kitchen. Danny was alarmed. It is quite large. And it would mean working beside an edifice that purrs and glugs constantly. The kitchen table is my writing space as the Rat Room is now Danny's lair.
We are lucky to have a small lean-to barn that is propped against the north wall of the cottage. The temperature in the barn is always cool. Never exceeding 55 degrees, even on the hottest summer day. It is where our fruit wine ferments slowly after the initial airing cupboard frenzy. Fruit liqueurs are stored on its cool shelves and another hundred tossed-in things litter the floor. It's a place for nimble sober feet.
I spotted two old meat safes on Ebay and won them for much less than it would cost me to make them. And where would I find perforated zinc if I wanted to?
I borrowed D's car and drove for miles across the fens to collect them. Eventually I found the isolated farmhouse and received an old fashioned English welcome. Lots of chat, a large mug of tea and the luxury of swapping notes.
It turned out that we were all self employed. This couple were entrepreneurial. gardeners and eBay masters. We were intrigued by each other's lives.
Eventually I had to head home and we attempted to stow the two meat safes in the car. The big one wouldn't fit. We did manage to squeeze it into the car but it would have meant no gear changes and a long journey in third gear was out of the question.
We tried everything. We even emptied the boot, which was full of our stuff to be recycled. I drove home with the slim meat safe and a car that was considerably lighter.
This svelte meat safe can protect eight salami from heat, flies and rats. It is now sitting in our barn, holding six hanging salami.
Hank over at Hunter Angler Gardener Cook has advised me well. He suggested buying a second hand salami fridge and a regulator (to keep the temperature a constant 55 degrees). In a few months time, the savings on our outgoings will enable me to do this.
Until then, the meat safes will have to suffice. I must admit that I panicked when Hank told me that temperatures over 60 degrees could spoil a juvenile salami. But all is now well. In an old frontier salami sort of way. Exotic, seat of the pants stuff. And the meat safeis a well made, beautiful object. I can't wait to collect the big one. I can store masses of salami, game in the winter and at Christmas it will be a fridge. Old fashioned but the perfect place for stilton, goose and mince pies.
Someone asked me today if I had any hobbies apart from the garden. The response was instant.
"Making salami, bacon and pork pies."
I'm having fun with this
Leave a reply