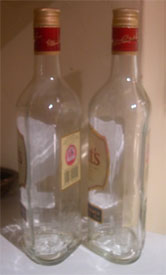 Earlier this year, I spent a few weeks working for a charming couple in the next village. They live in a lovely house set in an acre of land. The garden teemed with wildlife. It was hard not to linger by the windows and watch the natural residents.
I am lucky. Generally I work in houses with far more interesting clients than the wildlife beyond the windows. Each situation is packed with surprises, of the human kind rather than the behaviour of paint and fillers.
On this particular job I would arrive for work and find an empty litre bottle of whisky in the kitchen, most mornings. When the couple invited friends for supper and bridge, there were often two empty whisky bottles. I was flummoxed. Who could drink so much whisky and still focus on the cards?
The couple were so chirpy each morning that even a hint of a hangover was out of the question. They didn't drink at lunch time and in the evening they were not rushing to fill the ice buckets. What was going on? There is nothing better than a large whisky and soda at the end of a long day but this was exceptional.
A couple of weeks later all was revealed. I was discussing filtered water v bottled water with the lady of the house. She explained that she does not buy bottled water but stores filtered water in whisky bottles in the fridge. The screw tops stop the water being tainted by fridge smells and the glass bottles keep the water cool for quite a while when you take them out.
So if you want to shock your decorator and have iced water to hand in the evenings, Why not try this trick?
Leave a reply