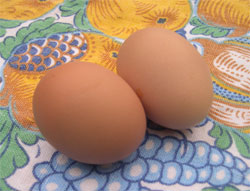 We make this omelette as a treat for each other. We call it The Souflette. If we are cooking for children we always make this for their supper as they love the crisp outside and the super fluffy melt in the mouth centre.
At the moment I am working down in Saffron Walden at my friend Clare's house. She made this omelette for her children's supper. When her husband Mike sampled it, he insisted that she cooked the same for their supper. Once you've tried this recipe, rubbery omelettes will never darken your kitchen door again.
Soufflé omelette recipe (for two adults)
Ingredients:
4 eggs (2 eggs for 2 children)
1 tbsp of olive oil
Salt and ground back pepper to taste
Topping of your choice. (We ate this last night, topped with a handful of homemade herb croutons, chopped ham and a large handful of grated cheddar).
Method:
Put the olive oil a frying pan on the hob over a very low heat.
Separate the eggs carefully and set aside the yolks.
Whisk the egg whites using an electric whisk until the whites stand up in peaks when you pull the whisk away from the mixture.
Beat the egg yolks and quickly fold through the beaten egg whites, with a metal spoon.
Pour the mixture into the frying pan and cook very gently for about 15-20 minutes.
Every now and then draw the omelette away from the sides of the frying pan using a fish slice. The omelette is ready for the next stage when the base is golden brown. The top will look fluffy and a bit pale.
Scatter on your topping to warm through. Turn on your grill to high. Give the omelette 1 minute under the high grill. The omlette will rise again!
Season with ground black pepper and a little salt. Somehow it tastes much better if you flip the omelette over in half and serve.
Leave a reply