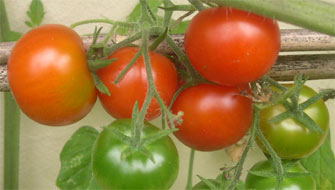 I harvest our tomatoes in the evening, when I water them. They are collected in the fold of my jumper and transferred to a bowl on the kitchen worktop to be admired and eaten.
The harvest is just three or four a day at the moment and most mornings the bowl is bare.
"Where are the tomatoes?"
"I ate them for breakfast. You told me I could eat some."
Danny quite often gets up at four to start work. But tomatoes for breakfast Yuk!
If I want to eat our tomatoes I have to hide them in a dark spot in the fridge or my secret hiding place (beneath the lid of the old fashioned cheese dish).
Yesterday I got up early to finish the previous night's article and potter a bit on other blogs. I wandered over to Little Foodies, one of my favourite fun food blogs. Amanda's post on Pan con tomate, bread with tomato, olive oil and garlic seduced me completely. She describes food, and her life around food, so exquisitely that she could persuade me to eat grass.
I glanced into the bowl on the worktop. There were three cherry tomatoes left. I ate pan con tomate feeling very dashing and continental and it was delicious. Danny's tomatoes for breakfast at four in the morning will now have to be a negotiated treat.
Leave a reply