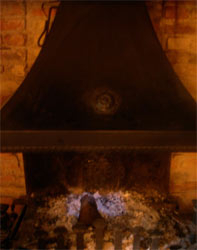 We were going to do a mid week bacon smoke as we'd all run out. Once you start curing and smoking your own bacon the commercially produced stuff just doesn't cut the mustard. We're all addicted to the home cured flanks
Bacon was bought, wet cured and earmarked for a communal smoke this evening. Yesterday Danny mentioned that he'd heard something in the chimney.
"I'm sure it's a baby bird that's trapped."
Then I noticed small sooty footprints on the carpet this morning. The Contessa was standing in the fire basket, looking up. Something was definitely holed up and alive in the inglenook fireplace. I peered up with the torch and saw the unmistakeable tail feathers of a pigeon, sitting on the ledge above the hood just out of reach.
"The smoke is cancelled. There's a pigeon stuck in the chimney."
The Chicken Lady's response was instant. "We'll be right down."
All valiant attempts to retrieve the bird failed. It was silent for so long that we assumed that it had died. Then it started to flutter and bump. At one stage Rollo (6 feet tall and very slim) managed to breathe in for long enough to compress himself inside the hood and stretch an arm about the ledge but the pigeon still remained at large.
It's devastating as the pigeon must be suffering in the chimney. Terrified, unable to escape and impossible to catch.
Read the grand finale.
Leave a reply