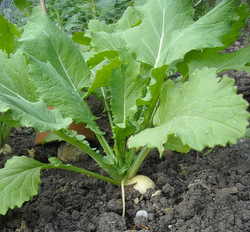 Last year Danny was surprised how much he enjoyed raw home grown cauliflower and raw courgette (zucchini) in salads. This year I thought I'd tickled his taste buds further by introducing him to raw home grown turnip. I'm not a big fan of turnips – they are fine in a winter stew but I'd been seduced by the description of turnip Oasis on the Thompson and Morgan site.
Turnip Oasis is a new variety of turnip and when eaten raw has the taste of a melon. Danny was dubious about it.
"Why would I want my turnips to taste of melon? I want them to taste of turnip."
"Well let's just grow a few to see what they are like."
Eaten raw they certainly taste like melon – sweet but with a water chestnut crunch. When they are cooked through they taste of turnip but far more delicate and melt in the mouth than the chewy old molls that you find lolling on the supermarket shelves. And the added bonus is that the tops are delicious too – these have to be cooked unless they are very young. So it's a two in one vegetable. Perfect. I'm going to try slicing them and sizzling briefly in a stir fry – if they retain their crunch they could be a cheap alternative to water chestnuts.
This turnip is easy to grow and develops quickly. Ours took about seven weeks from sowing to harvesting. They can be eaten from any size up to tennis ball sized. I let ours get slightly bigger than a golf ball before we started chomping. They don't take up much space – I set ours 4" apart in staggered rows. The smaller ones were the tastiest.
Ideally plant a few short rows at four weekly intervals, to harvest throughout the summer. I've never thought of a turnip as a summer vegetable but Oasis certainly is just that. 
Go on, give them a go –  even though you've never considered sampling raw turnip. I will send a pack of ten seeds to the first five people who comment on this post so you can try them for free if you are interested.
I never thought I'd become evangelical about turnips… but life at the moment seems to throw up so many new ideas.
N.B. Thompson and Morgan has 50% of seeds (including Turnip Oasis) until June 13th 2010. Click here for a direct link.
Leave a reply