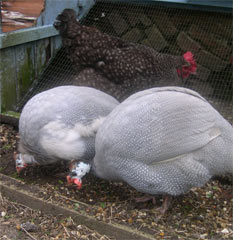 I've overslept, having fallen asleep at the laptop last night. My post is not finished and I have to go out for the day.
So this is just a small update on Mrs Boss and the duckling eggs.
I have made extensive repairs on the "castle". Mice have spent a happy winter chomping through the castle walls. With the aid of one of Dan's olive tins and a large pair of tin snips I have repaired the damage and disinfected the accommodation with Citrox the organic disinfectant.
I discovered a rat run under the house, which ends just underneath where Mrs Boss will sit on the eggs. Luckily we have strong wire netting under the floor of the castle so she would have been safe if I hadn't spotted it.
Mrs Boss sat regally in the hen house nesting box as I was assisted by the rest of the flock, who sprang forward to help clear the plants that had grown 'Sleeping Beauty' like in the castle garden. Cloud and Thunder, our Guinea Fowl, guzzled the nettles with relish. Thunder found a long worm which he passed gently to Cloud. Romance isn't dead in the world of newly married guinea fowl.
Thunder observed me closely as I unrolled the roll of roofing felt and his head seemed to nod in time to the hammer as I replaced the roofing felt on the castle roof. Now all the castle needs is a lick of paint and some gravel in the garden.
Mrs Boss is sitting on a large nest of six duck eggs in the chicken house nesting box. She has been grabbing any egg that has been laid to add to her nest for the past few days. Thinking that I wanted to steal the final china egg she sat tight and eyed me suspiciously when I opened the roof.
It took her a few moments to realise that I was now offering her eggs. She accepted each one with a small shimmy and cluck. She is sitting on six large duck eggs waiting for the grand move to her own private apartment.
Leave a reply