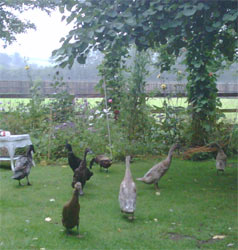 "They have settled in so well. I expected a few problems but they are getting on fine." S poured the tea as the ducks toured the garden in a neat crocodile line outside.
"In fact, Eric(a) loves hanging out with the grown up boys. And she's extremely bossy with the older female ducks."
Eric had always hung back and given Freddie and Tipex first dibs on everything. I was delighted that she was finally putting her flat, webbed foot firmly down.
"Look, they are coming up to the wood. I love seeing them waddle past."
We watched the small line of nodding duck heads pass beneath the kitchen window. They climbed the bank under the oak trees and disappeared into the wild wooded part of the garden. They were chatting with gentle, fuzzy quacks.
I quickly identified ours. Freddie and Tipex were in the middle of the group. Eric towards the back. They looked content, absorbed on their mission. Indian Runner Ducks are busy people.
I don't miss the stink or the skiddy ˜duck end' of the run. But the garden is strangely silent without the ducks. They were always so involved when I went down to the run.
Filling the drinking fountains was a huge pleasure. They would shake their heads through the spout of water, loving the sensation and drinking on the fly. When everything was in place, they savoured the cool fresh water with the enthusiasm of camels drinking from a forgotten oasis. Then nuzzle each other and drink again. When I put down a bowl of vegetables, served with water and pinhead oats, there was always an enthusiastic rush of flappy feet.
Now they have a vast paddock and a decent sized garden to enjoy. Their culinary horizons have expanded way beyond the confines of our run. They have access to ˜wild meat', in the form of countless slugs and snails. In the spring they will graze on the sweetest meadow grass.
No longer the outsiders, they are enjoying life in The Chicken Lady's small duck community high up on the hill above our village.
Leave a reply