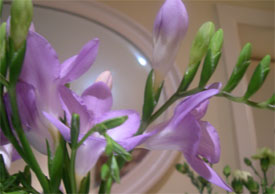 We don't push the boat out on Valentine's Day but we do get a tiny present for each other. It's easier for me as I do the big shop every week and can see the supermarket displays for at least a month.
Danny's Valentine's Hunting Trip is always on Valentine's eve. Last night, he suddenly found that he was part of a large posse of men that were desperately searching the card racks at Waitrose. Eventually an assistant was called who explained that they had sold out at teatime. I don't know where he found mine in Newmarket at 7.30 pm but I was delighted to see it propped up on the laptop when I tottered down this morning.
He also gave me these gorgeous fresias; my favourite flowers. Delicate and fragrant. If you dead-head them regularly, they can last for ages as each bud will open into a fabulous blossom.
D longs for chocs but also for warmth, when he has an early night. He could take a dog upstairs with him but doesn't want to invite all three as they tend to bicker under the duvet. Being kind, he can never make up his mind as to which Min Pin is the most deserving.
I spotted a heart shaped hot water bottle in a red plush cover in Tesco, a couple of weeks ago. Some might say that a hottie in a heart shaped fred furry cover is a bit dodgy, but this under-a-fiver present solved three problems in one fell swoop: (1) shivery early nights (2) finding an amusing Valentine's present (3) paying with change from my piggy bank.
He seemed pretty tickled with it. After a long hard day in London, he drifted up for an early night and is now curled up asleep with the hottie clasped to his tummy.
Leave a reply