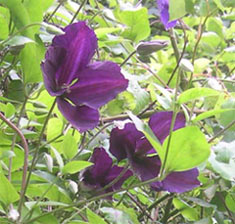 There is something magical about Celia. This was the last day of her open studio and garden. An irresistible combination. As with most of the Cambridge Open Studios, Celia's place is as intriguing as her artwork.
Many bloggers know her as Magic Cochin. She writes the excellent Purple Podded Peas blog. Celia is that wonderful combination of talented artist and knowledgeable gardener. Living with Cliff, two cats and her chickens she is busy yet relaxed. Her studio and garden is an oasis of calm.
The small exhibition was delightful. I was particularly taken by a wonderful print of a sleeping hare. Almost guaranteed to bring calm, if not sleep, on a long fretful night. Apart from the prints, Celia makes a good range of cards and small handmade note books with delicate silk covers. As well as her blog, she has a website dedicated to her artistic activity and many of her prints are available on line.
She has created a superb garden. The herbaceous garden is packed with a range of interesting plants and of course I had to see the extraordinary caterpillars. The large chicken house that is moved around the garden on a pair of sturdy wheels is so capacious and inviting that our chickens would be demanding new conditions immediately, if I was foolish enough to allow them to visit.
A lovely old stone wall divides the garden. The kitchen garden is accessed through a pretty dark green gothic door. I slid back the large bolt and stepped into a fructulent world bursting with vegetables and fruit.
After a few minutes I discovered that the hens had joined me, not happy just to stand and stare they were munching the choicest leaves like a trio of miniature lawnmowers. So I nipped back to the house to fetch their mistress. Celia gently guided the truculent hens out of the vegetable beds with the help of a long curved stick. Finally they were ushered through the gothic gate and we examined the garden in peace.
Celia's kitchen garden is packed with heritage varieties of vegetables including several strains of purple podded peas. Beautiful, plump and blushed they hang like enchanted peas in a fairy story. We examined them carefully, as she told me their names and described the taste of each one. I gazed at awe at The Three Sisters – an absolute must for our garden next year.
Driving home, feeling inspired and relaxed, I spotted a solitary cyclist wearing only shorts, sandals and a battered leather hat. As it was well after five and rather chilly I examined him in the rear view mirror as I passed. Sitting upright in his bicycle basket was a large owl, swaying gently with the rhythm of the bike.
The perfect finale to an enchanting afternoon.
Leave a reply