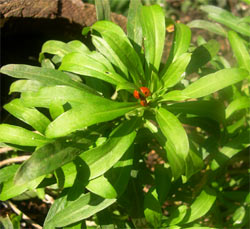 I was amazed to see that my wallflowers had tiny red buds three days ago. But on closer inspection the buds turned out to be a group of ladybirds huddled together amongst the leaves. I was delighted. These little beetles are valuable. Felling a bit like a younger Silas Marner I did a spot check of all ladybirds clinging to our wallflowers. There were twenty six. Worth £14.99+ if I had bought them from a ladybird farm. But leaving cash aside, ladybirds stop aphids being too much of a problem in our garden.
I drove off to work feeling smug and then the snow started to fall. The snow was light but constant. I fretted. Why hadn't I protected the ladybird convention. There was a large terracotta pot to hand. More and more snow fell. It was frosty when I returned home after dark, I didn't have the heart to check the ladybirds although I secretly thought that they had probably died.
This morning I ventured out to take a peek. These are well insulated beetles!
I have moved the pot onto the half barrel of wallflowers so that any passing ladybird can creep in for a bit of protection. There is a half finished ladybird hotel in the shed. This is just a pile of six inch bamboo canes at the moment but if I put them into the pot I will have a new ladybird hotel.
Leave a reply