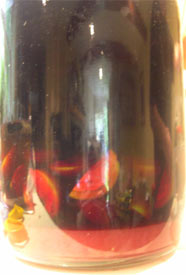 Having started the pickled walnuts I still had loads of nuts left over, so I looked around for other green walnut recipes. I was tempted by an Italian walnut liqueur that my last hairdresser makes every year. He buys pure alcohol in Italy and makes enough to last him until the next annual visit. He loved it and his wife hated it. Perhaps a perfect state of affairs when it comes to sharing precious grog. Some recipes suggested that it could be made with vodka but I decided to wait until we visit Italy again and can buy the alcohol.
Finally, I decided to try my hand at walnut wine. This is a speciality in France and there are endless recipes available.  The recipe that I used is here.  This recipe for vin de noix is on a fascinating site written by William Rubel. The author distils his own spirits amongst other things. An interesting site and well worth a visit.
I used a three litre box of wine, 600ml of vodka, 600g of granulated sugar and about 30 walnuts (as some of them were very small).
It will be a long time before tiny hands clap with glee at the uncorking of a bottle of walnut wine, as it is best left for several years. But time seems to rush by at a horrifying speed in the cottage so it's worth the investment. Apparently is tastes a bit like port and the longer it matures the better it tastes.
I moved a demi john of mead this afternoon. Started in 2005. Danny was goggle eyed when I suggested that we gave it a go.
"Will we be alive then?"
Only two more years to go before a wrinkly mead lift off.
Leave a reply