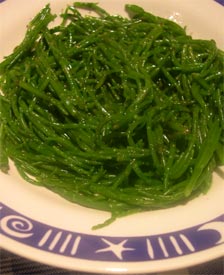 "We decided that we'd taste this uncooked."
I proffered a stalk to Danny. He looked uncertain.
"When did we decide to do this?"
I picked off a large branch and ate it trying to remain expressionless.
"Come on, you promised. We were sitting in Jalopy, and the rain was bouncing off the roof."
Danny took the teeniest segment and announced,
"It is salty." He chewed and added "Very salty."
I was cooking. Despite "being salty", it was going to be the green veg to accompany our sea bass this evening.
I love the name samphire it reminds me of sapphire, one of my favourite precious stones. I've always been curious about samphire and wondered what it tasted like. Now I know that when it is blanched it tastes great, far less salty with a satisfying crunch. As an accompaniment to sea bass it was perfect, even Danny agreed.
On our recent visit to the River Farm Smokery shop I spotted a large bowl of samphire and we bought some. Later I ventured onto the internet and discovered that there are two types of samphire available locally – costal and Norfolk. I'm not sure which type we bought.
Warm samphire, with olive oil and lemon juice recipe (for 2)
Ingredients:
100g of samphire
2 tablespoons of olive oil
0.5 tablespoon of fresh lemon juice
Freshly ground black pepper
Method:
Blanch the samphire for a minute in unsalted boiling water and drain
Add the olive oil, lemon juice and a decent amount of ground black pepper and serve. (We kept it in a warm place for about ten minutes and it was fine).
Leave a reply