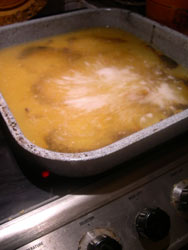 Years ago I met someone who had been a kitchen porter on a cruise ship. This meant that he had all the lowliest jobs including washing up at the end of the evening. This was the one duty that he loathed. He resented the time scrubbing away whilst the rest of the team were playing pool in the bar. The life was pretty good apart from the two hours a day battling with the pots.
So he hatched a plan. There must be something that would eat up all the caked-on food and fat. So rang a friend who was an up and coming research chemist.
When he came home on leave he met the chemist in a pub and a large bottle of some sort of acid was passed under the table and secreted in the inner pocket of his heavy winter coat.
"When you are back on ship and faced with a monstrous pile of pans, pour a capful of this solution into the water in the sinks and submerge the pans. Leave them for 30 minutes and then rinse them well. Never, ever, divulge your secret or your source."
Wearing a pair of heavy duty drain gloves, he lowered the pots into the solution. It worked liked magic. Within half an hour the pots were sparkling. From then on, he'd rinse them out carefully and join his pals in the bar.
The team was bemused. The pots had never been so clean.
He did admit that the hefty catering quality saucepans were feeling the acid by the end of the trip as the handles were getting a bit wobbly. Shortly after he stepped ashore he got a strong foothold on the alternative comedy circuit so never needed to go to sea again
This evening I ventured onto the internet to try and discover what he might have used. It was probably hydrochloric acid. I discovered this pan cleaning thread in a forum. With advice regarding chemicals if you scroll down the page.
I have never had to resort to anything so potentially dangerous. My mum gave me a great tip ages ago for getting rid of baked on food in pans. It's simple and works like a dream.
Put the pan on the top of the stove cover the base with at least half an inch of cold water and a couple of tablespoons of washing powder. Set the temperature to the lowest setting and leave to slowly reach simmering point. Let the pan simmer gently for a few minutes and leave to soak. The baked on food usually lifts of easily when scraped with a wooden spoon.
Leave a reply