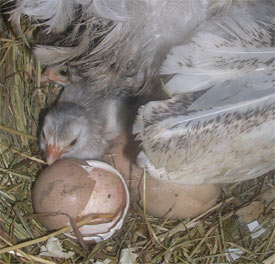 We are now on day 28 of Farming Friends' and Cottage Smallholder's interblog guinea fowl breeding event .
The gestation period for guinea fowl eggs is 26-28 days. This morning I jumped out of bed, pulled on my wellies and shot down to the chicken run. Perhaps the eggs that Sara from Farming Friends had sent us in the post had hatched.
I removed the side of Mrs Boss's castle. She gave me a cursory glance before she hopped off the nest and hoovered up the corn that I had scattered in her handkerchief garden.
I examined the eggs carefully. All were intact.
At lunch time I took another peek inside the castle. Still just the solitary queen and not a sniff of princes or princesses.
This evening I ventured down to the run. Mrs Boss seemed different. She refused to move off the nest. I lifted up her wing and a tiny pair of eyes peeped up at me. I ran back to the kitchen on air.
Returning with camera, I lifted her wing and spotted three rather wobbly keets. Grey, fluffy and gorgeous. At this stage Mrs Boss became rather animated and protective so I thought it best to leave them in peace.
So our interblog guinea fowl breeding event has leapt over its third hurdle. The eggs arrived intact having travelled hundred of miles from Yorkshire. Mrs Boss accepted them and has sat patiently for weeks and now the keets are hatching.
We are thrilled.
Leave a reply