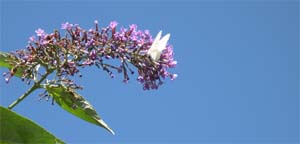 I found the cottage fourteen years ago. It stood quite a way back from the road, with dormer windows and a low terracotta pantiled roof. The plot was a third of an acre with most of the land lying behind the cottage. Everybody said that I'd be mad to buy it. The ceilings were too low, less than six feet in places.Tall friends stood hunched silently at the back door gazing at the long garden. Shaking their heads, they would explain that maintaining a garden of this size would kill me. Back then, it was nothing more than a field with a small pond. I didn't care. I loved the place. I had to live here. For the first few years I became totally hooked on gardening.I ignored the cottage. My mother called it the "Steptoe and Son" house. It was absolutely crammed with packing cases and furniture piled high. There was a small track through towering stacks from the front door to the back. Another pathway led to the bathroom. A tiny track led from the kitchen to the armchair beside the fire and a fork from this took me to the bedrooms upstairs.
It took me three years to find the final positions for the pictures and furniture, and that was only because I had a key client coming to lunch one day. I had to take a whole week off work to get the house in order.
It's embarrassing to admit that, 14 years later, there are still cupboards stacked with bulging, unpacked boxes.For five years I worked and lived in London, coming back to the cottage only for weekends and holidays. It was always a joy to return here, to drive in through the gate and stand by the car in the stillness, gazing up at the stars. Finally I just had to try living here fulltime and commute. This was just before I met Danny.
Suddenly a weekend retreat became our home. We tried to iron out the niggles that had been ignored for the "weekend life" but began to drive us barmy when we lived here full time. The cottage became a hub. Finally we started to appreciate what we had. We stopped commuting and the drive for the self sufficient life was born.
Leave a reply