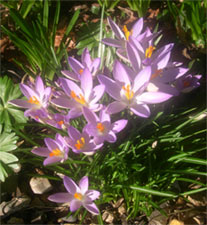 I glanced out of the sitting room window and saw a splash of pale lavender blue in the grass. We are lucky. Wild crocus have naturalised and spread. They were here when I came to the house, large pools of shimmering blue.
Just before I bought the cottage I passed its gate in a former Jalopy. There was a wash of the palest blue across the grass. Magical and almost unreal – like an illustration from a 1930's children's book.
These flowers seem so much more delicate than the standard crocus. They respond to the gentlest breath of wind and close up pencil tip tight when it's chilly.
When the sun touches them they open like stars and bask.
It was warm today. Spring like and fresh. I forced Danny into the sunshine to examine a patch of wild crocus by the gate. He was thrilled as he hadn't really noticed them before.
"They are beautiful. Almost regal."
The spring flowering bulbs are small and easily missed if you are distracted by the world beyond the garden gate.
My mum first mentioned the crocus to me.
"They're wild and quite special. I'd love some bulbs for my garden."
Today she mentioned that her bulbs had died out. I reckon that they need to be left alone and hate being handled. They need short rations too. They thrive in dry, stony ground. A well fed border would probably kill them.
The grass in front of the cottage is also full of snowdrops, aconites and polyanthus. But the small sociable drifts of wild crocus seem so much more precious, their appearance is fleeting and their effect dazzling.
Today, driving my mum home from her first trip to the Daily Bread Co-Operative, we passed The Backs. This is where the River Cam runs beside the backs of some of the oldest Cambridge colleges, a glorious walk. The grass at the back of Trinity College was washed with the same, shimmering crocus blue.
"Look, it's just like the cottage!"
My mum's only brother went to Trinity. He was killed in a fire during WW2.
"I often think of him when I pass The Backs. And imagine him buzzing about. Those crocuses have been there for as long as I can remember. He must have seen them too."
Leave a reply