Yesterday I didn't write a post. I took a holiday from everything and spent a day with Seraphina. Lunch and shopping in Saffron Walden. Tea and cakes at Audley End. Perfect, as we both needed some time out.
So this evening I'm sharing something very special. I'm showing you a few shots of the house where I am working at the moment. It's the quintessential English country house set in an acre of garden and has a good, calm feel. Here, time has stopped still.
The job involves repairing and decorating the outside at ground floor level when weather permits and between other bookings. Work like this takes patience and time. Beavering away on a hot sunny day, it could be a hundred years ago. I push open old heavy gates that have protected for years and I treat bricks that are so ancient that they crumble under the soft touch of a brush. Somehow, in so many ways, time drifts at this marvellous house.
T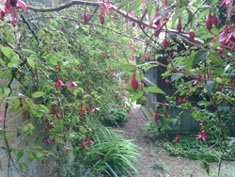 he garden is well tended but rarely used so it's a haven for wildlife. Working without a radio makes me tune in much more deeply to the feel and sounds of the place.
The thrush distracts and is so familiar that I no longer turn my head but I was enchanted to hear the repetitive tap of a woodpecker in the trees beyond the boundary hedge.
Each morning I carefully lift the nets on the small pond to release the wafts of dragon flies. Exotic dancers looking for love before the end of their short lives. I even watched a nymph slowly ease herself out of her armour plating and eventually unfurl her wings. It was a drama that built up gradually. She clung motionless to the brickwork for days. Eventually I thought that she must be dead.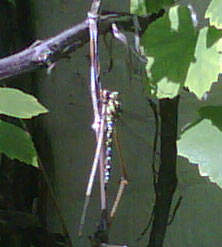 One morning I checked and spotted that there was a change. Her brown casing had split. Intrigued, I worked and watched nearby. A beautiful and startling creature slowly wriggled and emerged. She stretched out her gossamer wings to dry, and fluttered briefly before she finally flew away with such hope and joy.
Leave a reply