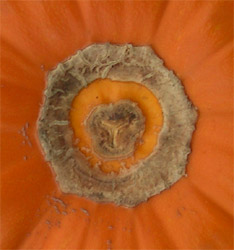 I'm still working down in Saffron Walden at the Murphy's house. When I arrived today, Clare was planning the Halloween supper for the children. Green spaghetti with an orangey tomato sauce. She came back empty handed from her pumpkin search, Waitrose and Tesco had sold out. Even the veg man in the market wasn't there today.
She had found a set of plastic fangs for their youngest daughter, 'They're really soft plastic, so they won't rub,' she explained. How lovely to have a Mother that cares enough to make Halloween special for her kids.
It was good to be in a house where Halloween is fun and a real event. Danny and I, along with most of our friends, don't see how big an evening it is for children. During my Saffron Walden stint, I've realised that it's not just the Halloween evening. In the Murphy's house, the run up has been at least two weeks. A proper orchestrated campaign.
Initially it started with the children. I overheard them planning their costumes. "I'm going to be the scariest thing that ever hobbled through Saffron Walden." "So am I.'" The youngest replied.
A couple of days later they arrived back from the party shop. Rachel was wearing a skull mask so scary that I had to look away. Emily was wearing an elegant wig, black highlighted with white. Pretty good to cover up a bad hair day, if one wanted to arrive at work as Morticia's sister. Before I could think of what to say, Emily had whispered, "I'm going as a vampire."
Having got the key elements, it was time to exhibit them. Small groups of children visited after school and hovered in the hall as Rachel rushed upstairs. Even though I was working two rooms away, I could feel the adrenalin building up until it exploded into shrieks and nervous laughter as Rachel reappeared as The Walking Skull.
Today it was finally Halloween. The costumes, the makeup and the promise of limitless contraband. The girls were delighted with the green spaghetti and as I left they were pointing to three small skeletons that were slowly approaching the house.
As he opened the front door on my return, Danny bellowed, 'Trick or treat.' No one had dropped by to sample our Halloween bounty and he was happily tucking in. The girls had sent him cookie. A pumpkin shaped shortbread, smeared with bright green icing and a scattering of tiny black bats.
Two gulps and it was gone.
Leave a reply