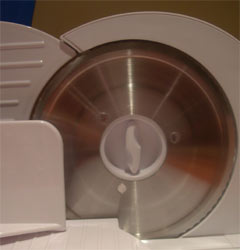 I was half an hour late for work this morning. My friend Tessa had bought me the perfect present. I couldn't tear myself away, wanted to examine it, even test it out. But there wasn't time for that. Danny and I looked at it through the plastic wrap and breathed a huge sigh of relief. It's just what we've always wanted, since we started curing our own bacon a few months ago.
"I'm so sorry that I'm running late. My friend arrived with a surprise present and I couldn't just say thanks and leave immediately."
"Oh, how exciting! What was it?"
"A bacon slicer!"
The reaction would have been the same if I'd announced that I'd just been given a baby grow for one of the dogs. Astonished silence.
Perhaps they imagined a sort of butcher's bacon slicer, a huge machine that would be only used once a year for the Christmas ham or some dotty Cottage Smallholder project. They smiled and made encouraging nods.
When I explained that we now cure and smoke bacon in our inglenook chimney the relief was overwhelming.
"What does your bacon taste like?"
"Do you sell it?"
"Is it expensive?"
"Do you buy a whole pig at a time?"
Suddenly everyone started to get animated about the bacon slicer.
"Does it cut different thicknesses?"
"Can you make pancetta?"
"Does it cut a really big joint?"
"Is it electric or handle driven?"
If you catch the home curing and smoking bug you will have loads of cured meat that needs to be sliced. If it is cut to the same thickness your meat goes further and it's easier to cook. When you give it away to friends, it looks so much better in uniform slices.
Our new baby – the Cookworks Food Slicer is electric. Now originally christened The Slicer, it's white and folds up neatly when not in slicing mode. Tessa already has one and it slices like a dream. Until now we have hacked with a sharp knife or borrowed The Chicken Lady's super slicer. I hate borrowing tools. If they break you have to replace them and if they keel over after you've returned them it might be down to you, even if it was weeks ago.
Now we can slice away with abandon at any time of the day or night. As chief bacon hacker, Danny's eyes soften when he looks at it.
We're thrilled.
Leave a reply