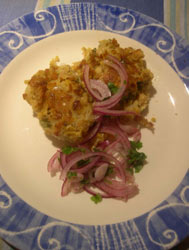 "How do you know that Delia's vegetarian recipes are going to be as good as this, when you choose them?"
Danny helped himself to another chickpea and coriander (cilantro) cake, a lashing of red onion salad and a vast dollop of Greek yoghurt. Delia's recipe is here.
It was tempting to keep my secret. But as I want him to exercise his paws and run up some Veggievore meals in the future, I came clean.
"If she mentions that a recipe was popular in the Norwich City Football Club Restaurant, I'll pick it out. Regular restaurant dishes have to be sold again and again. If they were popular in her restaurant they must be good.."
I wonder how many people came for the food and became football fans? I'm gradually cooking my way through Delia's Vegetarian Collection
the results are generally are so good that even I might have glanced at the field between mouthfuls. I am not keen on football.
"Can I have more?" Danny slid another cake onto his plate. He'd been a bit iffy when I suggested the chick pea cakes, when I showed him the pretty picture in Delia's book he clearly silently sniffed. He has an antipathy towards nut roasts and rissoles, and to be honest there was something rissoleish about these.
I dropped the cumin and didn't use whole spices or fresh chillies. I used a quarter teaspoonful of cayenne pepper – (my hot new best friend) and two heaped teaspoonfuls of ground coriander. I was quite lavish with the fresh coriander. The result was exceptional. Far better than I had imagined.
We both feasted on this superb dish. Light, fragrant and sublime. Next time I would use an egg or another tablespoonful of yoghurt to bind the mixture as the cakes tended to fall apart in the frying pan. It might be worth baking them in the oven on a tray. The accompanying salad that Delia suggests was heavenly too. It does need to marinade for at least half an hour for the flavours to develop. The combination of the cakes, salad and Greek yoghurt was enough to turn a meat eater into a chick pea lover in an instant.
This will definitely star as a small chic starter when we throw our Inaugural Veggievore Dinner Party. I am planning to invite only the old trusties who relished our steak and kidney evenings in the past.
N.B. We tried making these cakes using 0% fat greek style yoghurt and they were vile. You need the extra creamy Greek style yoghurt for this to be tasty.
Leave a reply