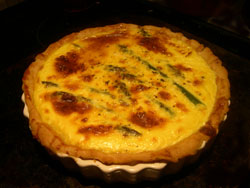 We've had rather a gruelling time recently. Just wall to wall work plus projects, blog and garden. It's very easy to get things out of proportion. I found myself driving down to Essex, gripping the steering wheel and fretting about not getting all my seeds in on time.
So I earmarked Sunday to catch up. Not with a frenzy of seed planting but a lazy long morning in bed with the Min Pins and the laptop. I find that catching up on relaxing is often the best answer for stress. Somehow, miraculously, everything falls into place. So what if we are eating sweet corn a month after everyone else?
There's nothing like a good breakfast in bed followed by a leisurely browse through some of my favourite foodie blogs. An asparagus and crab recipe on Richard's blog caught my eye. He also has a great category called Take One Ingredient. He featured asparagus a few days ago. Well written and interesting. With the whirl of the last few weeks I had not even noticed asparagus was around. And I'm passionate about this vegetable. Particularly when it comes to scoffing a decent handful.
Over at Writing at the Kitchen Table there was a long post on asparagus. The soup looked tempting but I was totally seduced by the Asparagus Tart. Overtired and feeling shattered the latter was exactly what I wanted to make. It hit two birds with one flan. I wanted to test the advice for avoiding soggy pastry (in a quiche, flan or tart) and also I felt like making something delicate, subtle and totally different from the Man Food that D loves.
I really enjoy the Writing at the Kitchen Table blog. Freya writes so well. The journey is easy, witty and inspirational. I also love her header graphic. I would, given the place that the Min Pins have here in the Cottage.
I made Freya's Asparagus Tart last night. It was superb. Gentle and truly chic – perfect for a light girly lunch or as a starter. When Anna (super chef) tasted it cold today, she shrieked with joy.
It's basically a rich savoury egg custard with asparagus. The parmesan gives the dish an edge but is hardly discernable. I only had single rather than double cream but it was still delicious. Freya bakes her pastry blind. I tried out the beaten egg coating on the pastry. It took quite a while to harden (15-20 mins) but it was worth the wait as it worked.
Danny enjoyed it but wondered if a tart exists that includes rare beef, kidneys or sausages.
Leave a reply