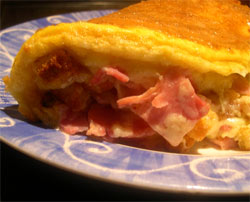 It's strange but I always choose what we will eat in the evening. Even when Danny does the big shop. Even when he does the cooking.
I wake up and the second thought after"I must have a large mug of tea. Now." Is immediately, "What will we eat tonight?
D is a carnivore with a capital K. If I am feeling tired and droopy, I want light meals with very little meat. He is understanding and agrees to the wildest whims as long as
1) I take his turn to cook
and
2) He can have chips
Chips would be an integral, pivotal element of D's diet if he went vegetarian. Forget the Quinoa.
We don't have a deep fat fryer or even a microwave. So we used to make our own chips and oven bake them. We briefly worried about the fat and switched to the wannabe slimmer's choice: McCain's (5% fat).
One dreadful day, the supermarket had sold out of low fat chips. It was steak night and steak with chips and all the trimmings (tomatoes and there must be fresh mushrooms) is D's favourite meal. In the next section of the giant freezer display were large beefy bags bursting with chips. I thought that these were probably crinkle cut and examined them with a sniff. These were Mc Cain's Home Fries, I read the tag line "Our best tasting oven chip" and popped a sack into my trolley.
Since then I have moved up a dress size but am happy to eat the occasional chip with anything.
Tonight we enjoyed one of our favourite comfort meals. The soufleé omelette. We call this dish The Souflette. I wrote about this in October last year and you can find our recipe here. It is always a big hit with children and the perfect light meal. Danny perked up when I mentioned the menu but when I got home the oven was already on. The souflette like any omelette is fried. Instanly suspicious, I queried what was going on.
He explained,
"I love Souflette, but if it's going to be our supper, we really need chips for the carbs. If that's OK?"
Leave a reply