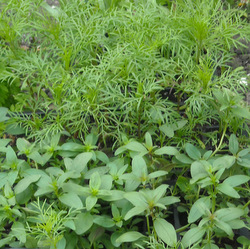 It's all very well growing 2000 flower plants but having started planting them out in the herbaceous borders it was clear that I was quickly running out of space. Some of my large swathes of perennial plants just had to go. I cut the more rampant ones back and dumped the ones that I didn't like 100%.  I also took a long hard look at the shadier border that I've never really bothered with and moved any plant that can cope with semi shade to that location. But still I didn't have enough space.
Then I had a brain wave. If marigolds are great in the vegetable patch surely some of my army of flower plants would also be good companions in the kitchen garden. I made a list of the plants that I had grown and spent a long time cruising about on the internet looking for answers. I discovered these combinations:
Dahlias repel nematodes (roundworms), so they benefit many herbs and vegetables.
Pot marigolds deter asparagus beetle
Zinnias, larkspur, cosmos attract pollinators
Asters, parsley, dill, and coriander attract beneficial insects
Sacrificial flowers such as nasturtium and nicotiana attract aphids and butterflies
Cucumbers and courgettes love nasturtiums
Cabbage and dill are a perfect combination
Lettuce likes to grow near cleome and nicotiana
Strawberries enjoy the companionship of nigella, borage and pyrethrum
Borage is a good all-rounder across the board
Achillea boosts the flavour of aromatic herbs such as thyme and rosemary
So I edged all my vegetable borders with flowers. Apart from the bed that is edged already with garlic shallots.  As paths divide the separate borders, the shade from taller plants falls on these. This was a good move as I'm finally finding homes for all my flower plants and hopefully the vegetables will benefit too.
I also read an interesting article that explained that herbaceous gardens with separate kitchen gardens used to be for those who had enough wealth and land. The cottage garden style evolved from the time when vegetables and flowers were planted together and the beneficial and bad alliances were well known.
This morning I found this comprehensive list from the Canadian Organic Growers which is one of the best ones that I've seen on the Internet.
I would love to hear any companion planting tips that you have as I'm sure that I'm only scratching the surface of this method. If companion planting can giver us tastier, stronger crops without the need for chemicals it's well worth giving it a go.
Leave a reply